Demetrio Bautista Lazo
La Cúpula B&B
Avenida Juarez Km. 2
Teotitlán del Valle
Oaxaca, C.P. 70420, Mexico.
Tel +52 (951) 524-4090
Teotitlán del Valle is 24 kilometers (15 miles) southeast of Oaxaca city.
From Oaxaca City, the Valle del Norte bus line at the second-class station's Gate #29 offers daily departures (except Sundays) every hour from 9 am to 9 pm. From Teotitlán, buses leave from the town market (across from the La Preciosa Sangre Church) from 6am-7pm. Cost: 10 pesos.
If you are driving from Oaxaca City, head east on Highway 190 and when you reach Highway 159, head north for four kilometers.
Another option is to take a "shared taxi" or "colectivo" on the Tlacolula route. Best place to catch one would be behind the Baseball Stadium (Estadio de Beisbol). Ask the driver to drop you at the turning for Teotitlan where you can then wait for another colectivo taxi, catch a ride or hike the remaining 2 kilometers to La Cúpula. Total cost around US$4.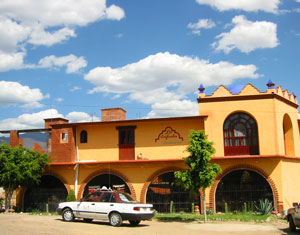 A good time to catch a glimpse of the life and culture of Teotitlan is during the week the village holds its most important celebration of the year, from the 1st to the 8th of July.
More information on travel and tourism in this area is available from:



Traditions Mexico
Hands-on Workshops with Demetrio can be organised in conjunction with Eric Mindling.
" Murex, Cochineal, and Indigo! Oaxaca Natural Dye Workshop"
March 10 - 19, 2011.

www.planeta.com Good general tourist info from Ron Mader.
Gobierno del Estado de Oaxaca (in Spanish only)
Other Links:
Jacobo Angeles: Fine Oaxacan Woodcarvings
Sirena Sisters: Oaxacan Folk Art Gallery online